Sensuous Life -Healing Place
N's Court is not designed just for usual living.
The more you use it, the more you will find something appealing such as pictures, lithographs and sculptures. You will also enjoy pleasant music at the hallway all day and many kinds of flowers and symbolic trees in the garden welcome you.
Breeze and fragrance in the air may always bring comfort to you.
N's Court is a place where you can see contrasting co-existence of powerful concrete buildings and warmth of nature.
Please feel with your own eyes, ears, nose and skin.
That is a living space which you may think is easy to find but actually, it is not.
Landscape of flowers and green
Colorful flowers and trees are grown in every place near the approach to the main entrance in the premises. The walls are also decorated with greenery.
Sunken Garden
This is the symbolic tree of N's Court in the sunken garden. You will enjoy viewing as it changes from season to season.
Artful Device with Deep Water
Deep water is sometimes streaming gently over the sunken garden where the symbolic tree stands in the sunshine.
Accomplished Structure
We follow up on the "quality" as we are particular about the texture and materials of concrete and design for the buildings.
Welcome Picture
A lot of pictures are decorated in every place of the building which is like a small museum and they will surely please your eyes.
Soothing Background Music
The background music is softly heard like the sound is in tune with the music of little birds in the open air.
Wind Passing-through Buildings
A passage for breeze is designed to let lovely cool breeze into the buildings.
Artful device for fragrance
Sweet fragrance is designed to create a relaxing atmosphere with lovely cool breeze in the N's Court.
Healing music and pictures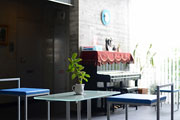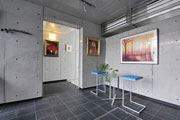 There is an automatic piano playing in Lego building, so please enjoy the live performance of the piano every day as background music and sometimes as a mini-concert.
The wall just in front of each door is decorated with a picture that suits the resident's taste which is called "My picture". This is the special hospitality only by N's Court 139 Lego for residents to heal their minds.